Our Team
All our doctors are registered with Dental Council of India.
Doctors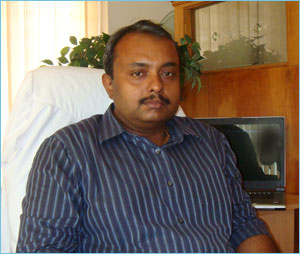 Dr. Pramod Roy D. Bsc BDS
(Director and chief dental surgeon)

Dr. Pramod Roy has been in private practice in Pathanamthitta since receiving his dental degree in 1994 from Dr. MGR Medical University, Chennai, Tamilnadu. He is also a BSc graduate in physics.

Over years Dr.Pramod has taken numerous handson seminars on general and advanced cosmetic dental procedures. Dr Pramod Roy continues his commitment to excellence by attending many seminars and conference on cosmetic dentistry and general dentistry. He has special training in orthodontics.
Responsibilities held in Professional bodies

President Indian Dental Association Pathanamthitta branch 2006-2007
Held various responsibilities in Indian Dental Associations Pathananthitta Branch: CDE committee chairman, CDH committee chairman, Accounts committee chairman, Ethics committee chairman, Vice president and executive committee member.
Indian Dental Association Kerala state executive committee member 2006-2009.
Founder member of social security scheme of IDA
Other activities

Rotary Assistant Governor (Zone 13 2009 - 2010)
Rotary governors group representative 2008 - 2009
President of rotary club of Pathanamthitta central 2004 - 2005
Secretary o0f rotary club of Pathanamthitta central 2002 - 2003
Charter President of Pramadam-Pathananthitta junior chamber 2000 - 2001
Achivements

Indian Dental Association (IDA) Kerala state award for the second best branch president 2006 - 2007
Rotary International President's award for polio plus activities. 2004 - 2005
Rotary district governor's award for 'Sneha sparsham' the project of giving free surgical treatment to poor patients.
Best rotary club president at zonal level 2004 - 2005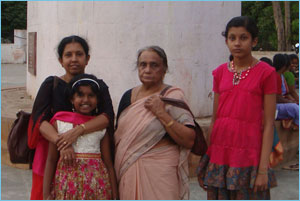 Dr.Pramod Roy is the son of late Mr. DamodharanNair.K., Orikottu house, Pramadam, Pathanamthitta.
He is married to Dr.Anitha P Roy, a dental surgeon and the couple is blessed with two daughters Athira Pramod and Athulya Pramod.
Dr.Anitha P Roy BSc, BDS, FAGE
(Director)

Dr. Anitha P Roy earned her dental degree at CODS Mangalore in 1994.
She brings to our clinic the up- to- date techniques in Root canal therapy and crown& bridges.
She keeps her skills current by attending continuing dental education programmes. She is a member of Indian Dental Association.
Dr.Nebu George MDS
(Consulting Periodontist and Implantologist)

BDS -Dr.MGR Medical University, Chennai.
MDS- Annamalai University Tamilnadu
Post graduate training in Nobel Biocare Implants.

Senior lecturer- Department of periodontics, Pushpagiri college of Dental sciences,
Thiruvalla, Kerala.
Dr.Muralikrishnan MDS (Consulting Oral and Maxillofacial Surgeon)

BDS – Bangalore University
MDS-Oral and Maxillofacial Surgery, Rajiv Gandhi University of health science, Bangalore.


* Senior Lecturer- In the department of Oral and Maxillofacial surgery,
Azzezia College of dental science and research, Kollam
* Consultant oral & maxillofacial surgeon in Azzezia Medical College and Hospital Kollam
Dr. Nishi Balachandran BDS

BDS from Dr.M.G.R Medical University, Chennai.
She has been working as a general dentist at our clinic for the past two years.
Dr. Donna Wilson

B.D.S from Dr.NTR Medical University, Hyderabad.

Working as a fulltime dentist at Orikottu.
Staff (Dental Assistant)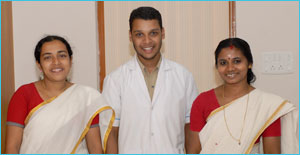 Our dedicated staff is at your disposal before, during and after your dental treatment to ensure an exceptional experience.
Practice Manager

Those regular visitors to our clinic will now be familiar with the cheerful personality of
Mr. Sreejith Mohan.
His care and attention both ensure the smooth and efficient running of the practice and that your visit will be as pleasant and comfortable as possible.